This site is reader-supported. When you click through links on our site, we may be compensated.
Tesla has unveiled the Model Y, a seven-seater, 300-mile, all-electric SUV that is expected to be even more popular than the Model 3. Similar to the Model 3 unveiling, Tesla offered test rides in the Model Y after the event.
Teslarati
was able to acquire a slot for the SUV's test rides.
Here's how the test ride went.
Elon Musk has already stated that the SUV shares around 75% of its components with the electric sedan. From the exterior to the interior of the Model Y, it is evident that the vehicle is derived from its sedan sibling. The exterior is pretty much a bulkier version of the Model 3, while the interior shares the 3's sleek dashboard that's dominated by a 15″ touchscreen. The vehicle is pretty roomy too, as the test driver was around 6'2″ and there was ample headroom.
A look at the rear of the vehicle shows some classic Tesla cues. The second-row seats could seat three, and similar to Tesla's other electric cars, there is ample legroom. The third-row seats, which can accommodate two, were folded down during the test drive. It remains to be seen how comfortable the third-row seats would be for adults.
The ride itself is very characteristic of Tesla, being quiet and smooth. The car seems to handle just like the Model 3, as it was nimble and responsive to the driver's input. The iconic Tesla acceleration was there, thanks to the test unit's dual motor AWD configuration. There was also very little body roll despite some spirited driving maneuvers.
Particularly notable is how well the Panoramic glass roof worked with the Model Y's SUV form factor, allowing a full, unobstructed view of the sky. it should also be noted that the glass roof does not have a cross member such as the one found in the Model 3. Teslarati was told that this would make it to production.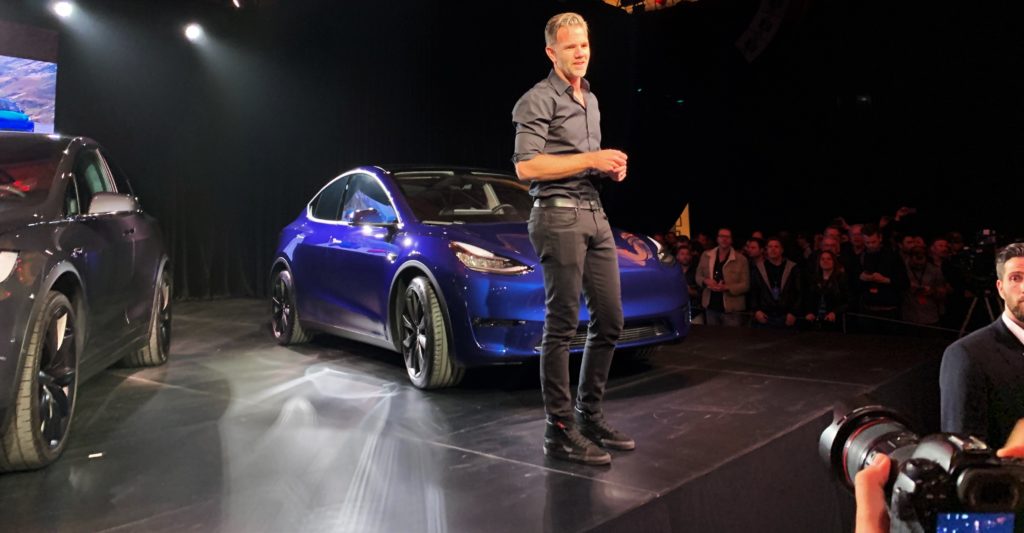 The Model Y comes in four variants: the Standard Range, Long Range, Dual Motor AWD, and Performance versions. The Standard Range version is capable of going 230 miles on one charge, while the Long Range version goes 300 miles per charge. Both the Dual Motor AWD and Performance Model Y get 280 miles between charges. (Click here for more details on teh Model Y)
The Model Y will enter production in Fall 2020, with Tesla producing the Standard Range version in Spring 2021. The Model Y starts at $39,000 for the Standard Range version and $47,000 for the Long Range variant. The Dual Motor AWD costs $51,000, and a Performance version will be priced at $60,000.
Watch Teslarati's test ride in the Model Y in the video below.
Tesla Model Y test ride: first impressions of Tesla's latest 7-seat SUV (VIDEO)